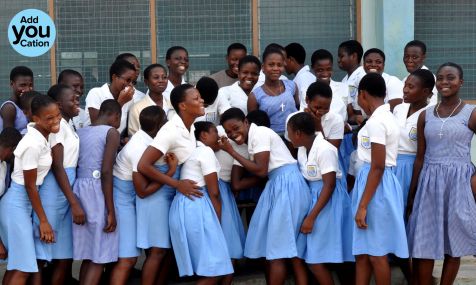 Shortly before Christmas AddYouCation has wonderful news!
20. December 2018
AddYouCation wishes you a merry Christmas and a happy new year! We´d like to thank everyone who supported AddYouCation this year.
Shortly before Christmas, AddYouCation has wonderful news! Ghana´s government has introduced free secondary high school education. The tremendous importance of education for society is best expressed in the words of Kofi Annan, the former Secretary-General of the United Nations: "Education is a human right with immense power to transform. On its foundations lay the cornerstones of freedom, democracy and sustainable human development.''
At St. Catherine Senior High School free senior high school education has been introduced in stages. In the current school year, the students in grade 12 are the last students who still have to pay school fees.
Although school fees have been lifted, the cost of education remains high for poor families in Ghana. The cost of school materials continues to be a barrier to education for children from low-income families that prevents them from attaining a high school education, and subsequently pursuing a university degree.
That is why we have decided to provide scholarships to students attending St. Catherine Senior High School with which they can buy school materials. We are looking forward to supporting the education of girls at St. Catherine Senior High School in the year to come!